Get Out into the Sunshine on Jacksonville Real Estate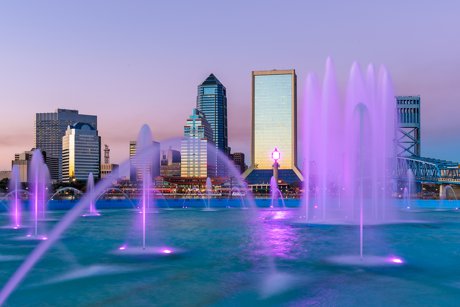 From waterways to beaches, Jacksonville real estate is loaded with fun activities and things to do. You can build sandcastles, sunbathe, or play in the water at one of the many uncrowded mile-long beaches. You can surf at the "The Poles," an area known for its fantastic waves. You can even experience delicious, fresh seafood or visit the Mayport village, famous for its good fishing trends. The scenery here is awe inspiring in this pretty place where the Atlantic Ocean mingles with the St. John's River.
While there are plenty of water activities and fun in the sun, Jacksonville property offers an even larger amount of outdoor attractions and events for the whole family! State of the art golf courses welcome athletes from all over the world. In fact the headquarters of the PGA Tour are located right in the center of this bustling town. There is biking, camping, hiking, jogging along the beautiful scenic routes, birding, and even exploring exotic animals at the Jacksonville Zoo and Gardens. Jacksonville offers many water activities, from kayaking down the water canals to exploring the ocean's colorful coral reefs! The city is a place for beachside shopping, good eating, and adventurous touring! It's a place the entire family will love!
Art Is Everywhere on Jacksonville Property
Jacksonville real estate has many hands-on activities, and in addition to these, it is known as a culture and history hub. Being voted as one of the top twenty-five art destinations in the United States, the area is teeming with history, music, and art. There are plenty of public art events in the city, where one can tour local art and maybe even bring a piece or two home! Museums and live theaters drive trendy artistic people to the area as well! From art to outdoor activities, Jacksonville, Florida is a place for family fun and enjoyment for people of all ages!